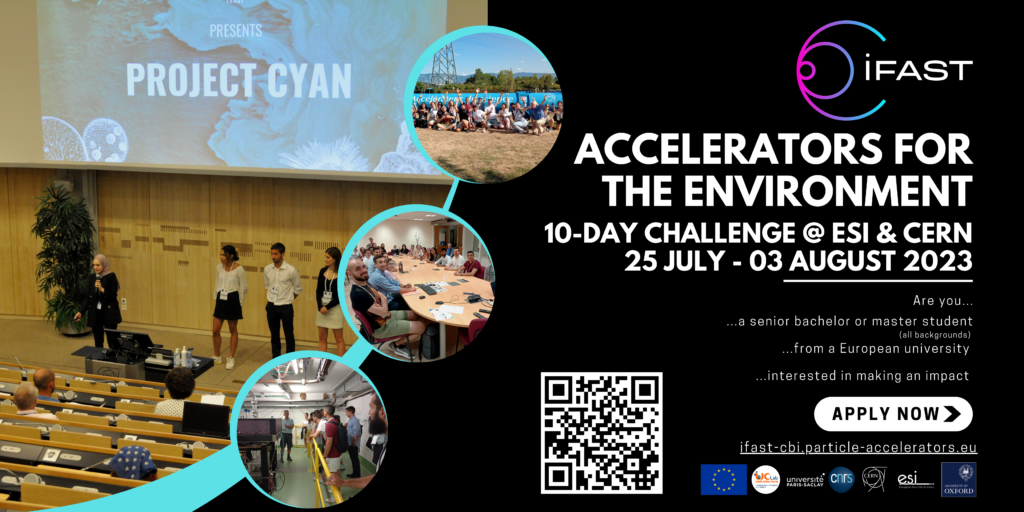 Who can apply?
Applications are welcome from all applicants.
Preference will be given to students in the second cycle of university studies (typically between the 3rd and 5th year of university).
We expect to select students in the following academic fields: communication, law, environmental sciences, physics and engineering.
Priority will be given to those studying in universities located in countries members of I.FAST (see list at https://ifast-project.eu/participants ).
I am graduating before the summer, can I apply?
Yes, you do not need to be enrolled as a student to apply.
Language
All activities will be held in English.
How to apply?
Submit your application here.
Application deadline
The application form has to be submitted before:
Tuesday February 28th 23:59, Geneva time, for Physicists and Engineers.
Sunday March 19th 23:59, Geneva time, for students in Law, Marketing, Communication or Environmental sciences.
Can I apply if I am not yet in my 3rd year of University or after my 5th year of University ?
Yes. Preference will be given to students between their 3rd and 5th year, however the selection panel will look at several other factors such as motivation and interest for the topic of the challenge.
See also
Article published in CERN Bulletin in October 2022.
Article published in Accelerating News!in December 2021.
Where can I find further readings about particle accelerators' applications?
An online course about particle accelerators.
What have particle accelerators ever done for us? Article published in Physics World.
Applications of Particle Accelerators in Europe: A report by the EuCARD-2 collaboration (also available at http://apae.ific.uv.es/apae/ ). Page 56 deals with accelerators for the environment.
The white paper « Uses and application of radiation processing » describes several applications of accelerators for the environment.
The Great Transition Guide: Principles for a Transformative Education
See also this page.
Selection rate
In 2022 the selection rate was 13%.
More questions?
Use the contact form below.